[ad_1]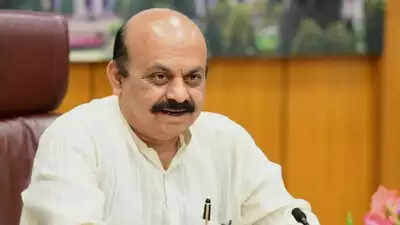 Karnataka chief minister Basavaraj Bommai
BENGALURU: Chief minister Basavaraj Bommai has supposedly assured the Karnataka state contractors association on Monday that the government will put in place a system and sought the support of the contractors to "control" corruption in the state.
After months of agitation which caused embarrassment to the ruling BJP government with allegations of 40 per cent commission being sought by the ministers for contracts being awarded and payments to be released, the association on Monday met CM Bommai and more or less "resolved" their issues.
Soon after the meeting, the association president D Kempanna said the meeting was fruitful to the extent that CM Bommai has assured them cooperation and will put in a system to control corruption in the government.
"The CM has asked for our support and we have assured him that we will extend it to the full extent possible. He has given us a patient hearing with regard to our demands and we hope the suggestions that have been accepted will be implemented at the earliest," said Kempanna.
It is said, at the meeting with the CM, the contractors passed a note to Bommai giving a break up of the percentage which the contractors are paying in every department.
To this, according to the contractors, the CM dismissed it and said it is impossible that such huge sums are being demanded.
"The CM told us that while eradicating corruption completely was an impossible task, he will ensure that the levels of corruption will be reduced," said one contractor who was present in the meeting.
Kempanna said the association will take a decision on the future course of their agitation after their executive committee meeting scheduled on May 11.
Rebutting allegations by certain sections of the BJP, including health minister K Sudhakar who claimed that Kempanna was a "Congress agent", the association president said that he was ready to face any trial or court if that is true.
"But if the allegations turn out to be false, let me ask them what punishment they will accept," he said.
On documents with regard to the allegations of corruption by various ministers, as alleged previously by the contractors, Kempanna said the association will release them as and when the time comes.
"The government neither asked for it nor did we offer," said the 80 year old.
FOLLOW US ON SOCIAL MEDIA


[ad_2]
https://timesofindia.indiatimes.com/city/bengaluru/will-control-corruption-karnataka-cm-assures-contractors/articleshow/91079445.cms